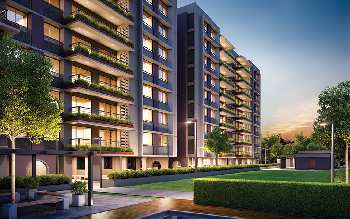 The real estate sector is one of the most globally recognized sectors and Ahmedabad's real estate is booming due to huge growth of its industrial sector. The city offers luxury homes to its customers with adequate planning, good infrastructure, quality construction at affordable rates. Ahmedabad offers a great return on your investments and immense future growth. Increasing corporate sector leads to an increase in the number of employees and their residence and that is why the need for residential properties in the city is boosting. Thaltej in Ahmedabad is one of the popular destinations with high demand for working professionals.

Ahmedabad Home Real Estate is a unique platform which helps in finding a dream home to its customers by understanding their property needs & requirements. They provide conclusive information about the properties intended to be sold. They are experienced in the real estate sector and emerged as one of the most demanded agents for buying & selling properties in Ahmedabad. We have built strong relations with hefty developers in Ahmedabad which serves the best deal to their customers. We aim to assist you find an ideal place to live within your budget.

Apartment for Sale in Thaltej
A beautiful 4bhk apartment for sale in Thaltej, Ahmedabad located in the heart of the city is available. Property is perfectly located and surrounded with all facilities nearby such as supermarket, hospital, shopping mall, bus stand etc. It also has convenience features like Balcony, elevators, parks, reserved parking slots, power backup, interphone equipment, security or fire alarms, gas pipelines, water purifiers, security guards and water storage. There is a quality specification, water softening plant, clubhouse or community center, waste disposable and one can enjoy wonderful views of the parks & gardens.

Apartment can turn out to be a very convenient living provision. Here is Why is living in an Apartment a better choice ?
No Weeding or Planting: You always have someone else to take care of the landscaping and gardening. At many apartments, you can enjoy the beauty of manicured lawns and colorful flowers that span the seasons.
Great Communal Lifestyle: When you live in a close-knit community, you share the friendships that blossom when living close to your neighbors. You can easily socialize with your neighbors or call on them when you need help in an emergency.
Access to Amenities: You enjoy amenities like swimming pool, clubhouse etc you might not be able to afford in a stand-alone home.
24/7 Security: The best apartment communities come with 24/7 video-surround surveillance coverage along with security guards at the gates of the society. It is safe for single women, elderly and children as well.
Parking Lots: Apartments have large parking lots along with guest vehicle parking.
A Well-Planned Location: Apartment developers assess the best geographic locations based on how close they are to schools, public transportation, grocery stores, shopping centres and parks.

If you are looking for your dream home or as an investment, Ahmedabad Home Real Estate is a perfect station.
This entry was posted on May, 23, 2020 at 11 : 17 am and is filed under Apartment for Sale. You can follow any responses to this entry through the RSS 2.0 feed. You can leave a response from your own site.