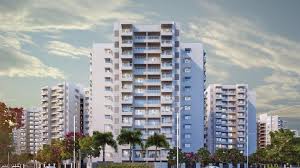 Buying a residential property is always a dream for the middle-class. Many of us only dream to buy our own house but frightened of buying due to its complexity. The right time to buy property is when you feel that you are ready for the responsibility while buying a house. However, there are lots of Apartments for sale in many smart cities makes it easy for people to choose the best apartments and amenities attached to it. However, there are Apartments for sale in Godrej garden city ranging from 2 BHK to 4 BHK apartments with amazing amenities for which you cannot say no and buy the apartments in such a beautiful location. Here are some of the amenities available as:
Gymnasium: There are Apartments for sale in Godrej garden city with amazing amenities such as Gymnasium, which makes you fit but also healthy for other family members too. Modern types of equipment of the Gymnasium will help you to keep active and save from diseases.
Landscaped Gardens: There is always a need for any apartments to have gardens around it. This will provide help to senior citizens to move around the gardens in the evening and makes them fit and active.
Swimming pools: Swimming pools are often required in summers and it also helps you to stay fit and healthy. It is a great sport for children and helps them to enjoy summers and on holidays.
Clubhouse: The clubhouse is often required for any occasion whether for birthdays, marriages or any meetings, seminars, etc. The clubhouse is also helpful for housewives for recreational activities on weekends to spend quality time with their ladies group.
Children's play area: Children's play area is also provided in the Godrej garden city makes it a great time for children.
Security and power backup: As the apartments are situated in the Godrej garden city security and power back up are always up to the marked. These amenities are essential for any kind of Apartments which have the above-mentioned facilities make it safe for dwellers to spend their quality time in activities and with their dear ones.
Before choosing any apartment for living, one has to look out for the neighborhood. As neighbours are the first persons to help in emergencies. One has to look out for other amenities before buying any property is school, restaurants, hospitals, shopping areas, etc. However, there are lots of top schools are located nearby Godrej garden city. Godrej garden city is located on 4.20 acres of land consisting of 7 Towers on SG highway, Ahmedabad's fastest growing corridor of high potential real estate. There are various top children hospitals, multipurpose hospitals nearby such a huge project. Even good restaurants are located nearby such Godrej property. Godrej garden city is a spacious property with the required amenities to make it excellent for living. These Apartments for sale are also surrounded by trees and environment-friendly area with an abundance of clean and fresh air. This is a well-planned and conveniently located within Ahmedabad Municipal Corporation limits. This property has villas and apartments build by expert architectures.